Warning: this post contains scenes of nudity (sadly only mental ones in my head) and saucy language. Only joking. It's a bit rude. A lot. Not really. Ok it is. Sort of. There's a mild amount of innuendo. By mild, I mean in every paragraph. If you're a family member, don't read it. And if you're a friend, don't look at me like that. #YoureAllAdults (NB Clearly, there are many Valentine's gifts women want that I could have written about but these 13 ain't bad.)
in which a bunch of famous über attractive men were the butt (pun fully intended) of the joke. It was just an excuse to be a bit silly, a lot naughty and laugh muchly. I'm glad to say people got it and chuckled along with me. By people I mean women (men were a bit taken aback but that's just the whole 'double standard' thing kicking into gear if you ask me).  Anyway, moving along swiftly before I start a gender riot…
Love it or hate it, Valentine's is around the corner.
So I got to thinking about things women really want, you know:
what they'd really love to have if they actually could have it
things that don't exist in the shops
things that would be a tad illegal (and probably unaffordable) if you could buy them in a shop
things you can't stick a bow on (well actually come to think of it…)
Yes, by 'things' I mean men. [Oh no, she's objectifying men. #SorryNotSorry]  So here's my gift to you: a wee piece of fun about yet more famous good looking men.
The ultimate list of naughty but nice  Valentine's gifts women want.
Ok, it is probably a huge assumption saying women want all these as we have different tastes. I'm no survey expert; just a married woman of too long 15 years with a sense of humour And before you ask, no Channing Tatum – bleugh he makes my stomach turn and after seeing him in a certain film where he single-handedly saves America/the world armed with nothing but one gun and a string vest, double bleugh – is NOT in this. Nor is David Beckham (I'll always love him but I never did get used to the voice)…despite the unanimous outcry over them not being included in the Housewife Confessions post. My blog, my men. I mean rules.
In order of hotness – oopsy daisy – surname:
1. Adam Canto

This guy has grown on me. Not like that!  Stop it.  I'm really trying not to start laughing already. I mean I like him a bit more with every Designated Survivor episode I watch. Chiselled jaw, dark eyes etc etc. I've not seen him in anything else but oh my…Adam Canto? I say Adam Can Oh…  Valentine's gift list? I should co co.
2. Josh Duhamel
Josh who? I was going to ask what happened to him after seeing him in just about every film in the late noughties but according to IMDB he's still working in film and TV. WHO CARES? The main thing is there are still pictures of him on the interweb! Josh may not be posh but oh gosh…
3. Michael Fassbender
So not laughing at the last bit of his name, promise. This guy always strikes me as the thinking woman's male hottie. Definitely more on the sophisticated side rather than the shirtless beefcake type (she said trying. very. hard. not to make vulgar beef-related jokes). A romantic dinner with this chap? Yes please. Just don't order any beef dishes cos I'll laugh.
4. Ioann Gruffud
I'm not even going to mention how long it took to track this guy down. You know why? Because I could not for the life of me remember his name and couldn't exactly google 'seriously hot Welsh Guy with the impossible name'. Frankly, I still can't pronounce it (and I'm Indian for God's sake, we invented difficult names!)  Valentine's gifts women want? Out of all the yumsters on here, THIS guy gets my vote…er and Richard…and Chris… Foursome anyone? Sadly I shall have to marry him in my dreams because 1) I'm already hitched 2) I couldn't bear the utter frigging hell of spelling out an Indian first name and Welsh surname in real life.
5. Bear Grylls
I know. Not your typical pin up but there is something so wholesome?  Real? Alright most 'real' people don't go hanging off the side of a cliff or eating an unthinkable diet of insects. Rugged? Hmm that usually makes me think of the cowboy hat brigade rather than Bear's rather public school self.  Let's go with 'down to earth'. He has a certain charm. And let's face it, when a man says "It's x degrees fahrenheit, I've not eaten in days, I'm shivering because my sweat has frozen in the night air and I need to drink my urine to avoid dehydration" you know AT THE VERY LEAST this man is going to be more interesting company than cowboy hat man (even if the conversation occasionally makes you throw up in your own mouth).
6. Tom Hardy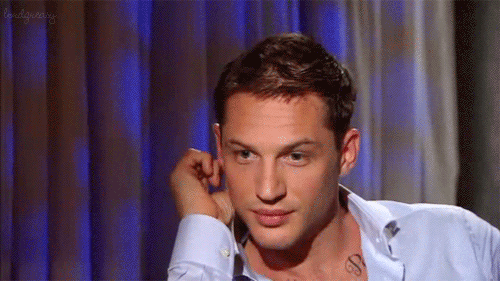 Brooding, sexy, good looking – if not in the classic sense – and rather intimidating. Deserves a place on this list because…well basically he scares me and if I ever become a famous blogger, he may hunt me down and pin me to a wall (yes please) and demand to know why he wasn't included. I have it on good authority that Mr Hardy is one of the Valentine's gifts women want, really really want.
7. Hugh Jackman
Or Huge. Ackman. as he is known in our house. Inside joke. Well, more a joke made in the hit film Night at the Museum and heard by millions of viewers. Go on, I challenge you not to say it like that from now on. Ever since hearing it, I've laughed at the sight/mention of this actor. I'm well aware laughter is not the normal reaction most ladies have seeing him but an entirely different reaction altogether. Which is why he's made the list. (Well that and the fact that if he walked into the room, I'd lose myself totally.) Valentine's gifts women want rating? 8.
8. Jon Bon Jovi

I admit I've slipped him in here – if you'll pardon the expression – even though alphabetically, he probably should have gone first. But I was a bit nervous about starting the post with someone who's no spring chicken. There again, neither am I. Total coincidence that he's next to another middle aged chappie. But man has this guy aged well or what?! 'Chicks dig him.' So do I. (Even though I admitted I'm no chick anymore. Now I'm just confused.)
9. Rob Lowe
Eeeww why is she putting another oldie in here? Firstly, careful, he's only four years older than me, I'll have you know (and I've just found out he's a fellow Pisces yay!). Secondly, 'oldie' he may be but gorgeous he still is. I have no clue why I'm suddenly talking like Yoda. But I do know the other reason I've included him is (apart from the fact that he was probably THE best looking guy of the 80's and STILL looks incredible) I just want to say 'How Lowe can Rob can go?' ba ha HAAA.
10. Richard Madden
I. Can't. Breathe. It's fitting he's number 10 because I really would give him a 10. I'd give him something else too but this is a family show (so they tell me), so I'll keep it clean. (Ish.) There is a lot I could say about Richard. A LOT. I could crack jokes about a certain nickname D**k. I could say how the very sight of him is too much to handle and is quite madden-ing. Get it? I could pretend I included this gif out of admiration for the craftsmanship that went into his outfit. #YoureNotLookingAtHisTopHalfEither But I won't.  I'll simply leave you with the image, not the actual image (because no blogger wants to annoy Google) but the mental one of THAT bum  in Game of Thrones, Red Wedding. Have you seen this man's backside? Frankly that alone earns him a place in a list of great Valentine's gifts women want. Two years later…I'm still a mess.
11. Chris Pine
One of the Valentine's gifts women want. Or don't… I reckon this guy polarises woman. You must have misheard me. I said polarises. No it's not a 'position'. I reckon women either think he's the most handsome man ever or well…he just doesn't do it for them. I'd have a hard time choosing between him and Ioann to be honest as I'm a huge Pine fan. Again stop making up your own jokes. The more films I see him in, the more I luuurrvve him and pine after him #WorstJokeEver
12. Ryan Reynolds
Now as you may recall, I mentioned Monsieur Reynolds' namesake, Monsieur Gosling, in the Housewife Confessions post. To be honest, I hummed and hawed about including this particular Ryan. I'm in two minds about him because sometimes I think he's a hottie and sometimes a nottie. He's probably a bit too squeaky clean for some but I know he has a huge following among the ladeeees so he definitely needs to be listed as a Valentine's gift.  You know, one that you won't be receiving. Sorry about that.
13. Chris Hemsworth
No I haven't had a sudden alphabetical breakdown after listing everyone by surname. There's a reason for leaving him til last. If you're a regular Absolutely Prabulous follower, you may have already worked it out.  Personally, I didn't notice le Hemsworth for ages beyond hearing about him and his brother as a sort of joint package. I know, I really shouldn't use the word 'package' in a post about attractive men. Then suddenly there he was in every film, shirtless, ripped muscles, cheeky smile etc. He's constantly on those sexiest men lists, is easy on the eye and…
is famous for playing a character whose name sounds like the way you'd feel after going just one round with him:
Thor.
My work here is done. (Mainly because I now need my blood pressure tablets.)
#DropsMic
Update since publishing:
Jon Hamm
Ok, inevitably people who've read the post have pointed out some criminal oversights. I can't believe – considering I only just watched his amazing speech for Tina Fey and the fact he stars in one of the loveliest films (Million Dollar Arm) – that I actually forgot the rugged what-you-see-is-what-you-get utter hunk that is Jon Hamm. Surely one of THE Valentine's gifts women want? And no I wasn't going to crack any smutty jokes about his name sounding like pork. (Because it's not the right spelling. Phew.)
PS The mystery man name question has been answered thanks to Mum Muddling Through and of course this is none other than the yumster from Game of Thrones and The Other Woman, Nikolaj Coster-Waldau. Why on earth am I saying 'of course' like his name is as easy John Smith? What a blooming mouthful. I mean his name. His NAME is a mouthful! You lot are incorrigible. I give up.

WHAT DID YOU THINK OF THIS POST?
HAVE YOUR SAY!

by using the Facebook or website comments box below.
SHARE THIS POST

! via the social media share buttons below.
DON'T MISS THE NEXT POST!

just pop your email address in the orange top banner.
TO FOLLOW

my pearls of wisdom entertainment on social media check out:
Facebook,Twitter and Instagram.
Comments
Comments